STASH ENHANCEMENT! :)
I got a raise at work on Friday night (wasn't due for one til May!) so to celebrate I went yarn shopping of course. I spent more than I should have, but all of it is for gifty stuff so I guess it's justified :)

First I got 5 skeins of Artyarns Supermerino in color 105 for a project that I can't yet disclose :) As you can see by the photo I was so anxious to start I stayed up late late last night getting the project started. This yarn is absolutely a DREAM to work with. It is soooooo unbelieveably soft, it almost feels like there is alpaca or even cashmere in it. And the colors....fabulous. My only issue so far is that it splits fairly easily, but everything else makes up for that!



Art Yarns Supermerino and the beginnin of a SECRET project!


Artyarns Supermerino (color 105) and secret project detail



I also got 3 skeins of Manos del Uraguay in color 1. These will be made into a scarf for my mom for Christmas (hopefully). The pattern hasn't been chosen yet but I do want to incorporate a cable.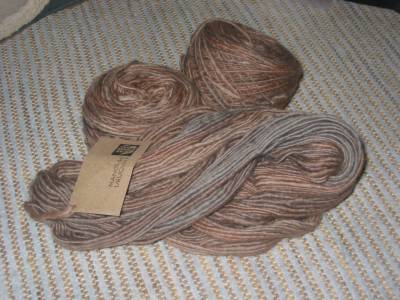 Manos del Uraguay (color 1) for a scarf for my Mom



I also got a set of size 11 Brittany Birch needles for my luscious Misti Alpaca scarf, but I think due to the overflow of Christmas projects all of my projects for myself are temporarily being put on hold...:(

More soon!