[FO] Holiday Knitting - Clapotis
So, I decided I'm going to post one FO at a time (to keep from having one ENORMOUS entry). I chose Clapotis to post first because it's my favorite.
Pattern: Clapotis
Yarn Used: 5 skeins of Artyarns Supermerino in color 105 (this is my new yarn love!)
Needles: size 8 Clover bamboo circs

Modifications: I did one less increase section, making the straight rows only 95 stitches across. I had JUST enough yarn.
Gifted: to my Aunt Mary Anne who had an inkling to teach me how to knit when I went away to college but never had any idea that it would become such an obsession! She looooved Clapotis and is now hunting for yarn to make one for herself (as am I!)

Here are a couple pics of Clapotis blocking:



Clapotis blocking



That is a twin size bed (for size reference).



One corner of Clapotis blocking



Here is a picture of the stitch detail (my favorite)!



Clapotis detail



Finally here are a few of the happy recipient!



Aunt Mary Anne opening Clapotis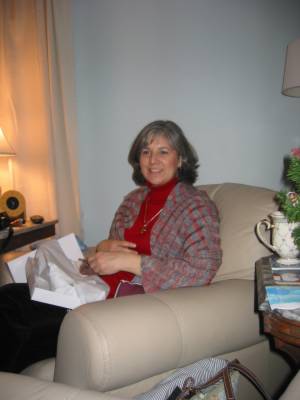 Aunt Mary Anne wearing Clapotis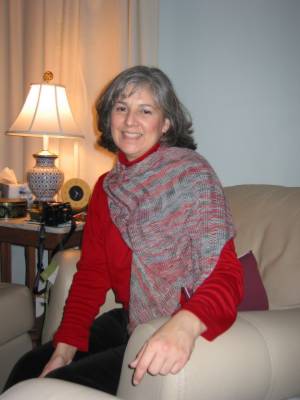 Aunt Mary Anne wearing Clapotis 2



I realllly loved this project (seems to me that everyone who has made it has the same sentiments)! I want to make one for myself but I'm on a budget. I'm thinking of ordering some yarn from Handpaintedyarn.com for mine. I decided I want red (atypical for me, but hey it's a new year!)...but there are too many beautiful reds to choose from!!! Ahhh...the joys of decision making :) Hope everyone's new year is going well!