Two FOs and Some WIPs
Sorry for the blog-neglect, folks. Things are a bit crazy. Well, I have for you today, first, another of the Christmas FOs.

This is the Pink Cloud Scarf.
I used Patons Divine (light pink) and Moda Dea Dream (snow white) double stranded and knit it on size US 15 needles in a K3P2 rib. This was given to my Aunt Cathy for Christmas.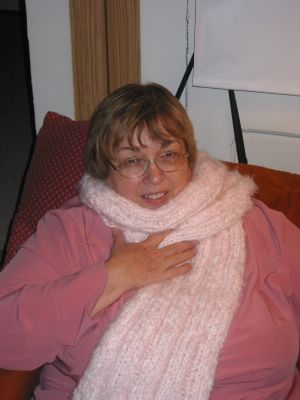 Aunt Cathy wearing the Pink Cloud Scarf


Stitch Detail (Pink Cloud Scarf)



It was a really fun, fluffy, soft scarf. It worked up really quick on the big needles (but made for really sore hands!) and the yarn despite all the acrylic and man made fibers was REALLY soft. If you haven't touched Moda Dea Dream, go find some and pet it, it's luscious!

Next, a FO for me! As soon as Christmas was over I couldn't wait to get my hands on my Misti Baby Alpaca Chunky to make a scarf. I was going to do a simple rib but decided to make a modified Wavy. I cast on 30 stitches and used size 11 needles. It's not quite as long as I would have liked because I ran out of yarn, but it's really soft and REALLY warm (which is a necessity here right now)! Oh and this still needs to be blocked.



Wavy


Wavy 2


Stitch Detail (Wavy)



Next, here's some WIPs! First up: my first EVER socks! I'm using Regia Crazy Color sport weight yarn and size 4 dpns. (please ignore my backwards decrease, like I'm trying to! *grrrr*)



Regia Crazy Color Sock (mid foot)



Next: a Lacy Scarf made from Plymouth Baby Alpaca Brush stranded with Filaturia de Crosa Night (for the hint of sparkle). This is going to match a cute little angora bucket hat and convertible mittens I got for Christmas.



Baby Alpaca Brush Lacy Scarf (in progress)



And last but not least: I started Cathode in Noro Kochoran (color 31) as the MC and Manos (don't remember what color) as the CC. Had to play with the numbers a bit but hopefully it'll work out. So far, I just finished the collar. Being snowed in has allowed ample knitting time!



Cathode Collar



That's all for now, hopefully now there will be more updates more often!